AP Products, Inc. 800-417-2477 (Administration & Non-Technical) 800-874-3271 (Technical Support Line)
WINNEBAGO INDUSTRIES CLASS A MOTOR HOMES
PRE-WIRED FOR SUPPLEMENTAL BRAKING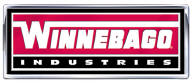 U.S. Gear is pleased to announce that all 2007 and newer Winnebago Industries Class A motor homes are now pre-wired for supplemental braking. This includes both the Winnebago and Itasca brand Class A's.

Winnebago is the leading United States manufacturer of motor homes and are represented by a dealer network numbering over 300 in the U.S. and Canada.

The pre-wiring program represents a tremendous opportunity to provide many RV consumers with the premium Unified Tow Brake at a substantial savings in cost and installation time.

Since the 2007 Winnebago motor home is pre-wired for the brake controller, the only thing that needs to be purchased to complete the Unified Tow Brake system is the Towed Vehicle Kit (TV-1000K), and not the complete Unified Tow Brake (UTB-1000) kit.

For more information about the Unified Tow Brake, contact your dealer or visit the Unified Tow Brake web page.
---
Unified Tow Brake information
Send your questions and comments to: info@usgear.cc
Copyright © 2008 AP Products, Inc.
Last modified: 08/15/11