AP Products, Inc. 800-417-2477 (Administration & Non-Technical) 800-874-3271 (Technical Support Line)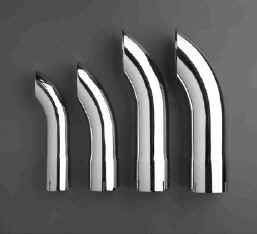 TORQ-LINE™
Chrome Turn Down
Tailpipe Extension
The double chrome plated tailpipe extension turn-down is more than "just another pretty face..." The turn-down serves as a functional way to re-direct your exhaust away from the trailer you're towing. This is particularly important for diesel powered vehicles!
Kit includes: Heavy gauge tubing double chrome turn-down tailpipe extension and stainless steel low-profile band clamp.
To order, call Customer Service at 1-800-874-3271.
| | | | |
| --- | --- | --- | --- |
| | Applications | Price | Length |
| CTD-1250 | Chrome Turn Down 1-1/4" | $49.46 | 10" |
| CTD-1500 | Chrome Turn Down 1-1/2" | 49.46 | 10" |
| CTD-2000 | Chrome Turn Down 2" | 49.46 | 10" |
| CTD-2250 | Chrome Turn Down 2-1/4" | 49.46 | 12" |
| CTD-2500 | Chrome Turn Down 2-1/2" | 57.88 | 12" |
| CTD-2750 | Chrome Turn Down 2-3/4" | 57.88 | 13" |
| CTD-3000 | Chrome Turn Down 3" | 71.57 | 13" |
| CTD-3500 | Chrome Turn Down 3-1/2" | 84.20 | 16" |
| CTD-4000 | Chrome Turn Down 4" | 84.20 | 12" |
| CTD-5000 | Chrome Turn Down 5" | 93.67 | 14" |
| CTD-5001 | Chrome Turn Down 5" (Straight) | 84.20 | 8-1/4" |
Dimensions listed are for the diameter of the pipe you are fitting.

All prices and specifications are subject to change, without notice.
Effective date 3-1-08
---
---
Send your questions and comments to: customer.service@approducts.net
Copyright © 2008 AP Products, Inc.
Last modified: 08/15/11