AP Products, Inc. 800-417-2477 (Administration & Non-Technical) 800-874-3271 (Technical Support Line)
Unified Tow Brake Installation Supplement
for GM vehicles with factory installed
vacuum pump/electronic check valve
on Power Brake Booster
1. Locate vacuum pump/solenoid assembly on power brake booster (reservoir) with multi-pin electrical connector. The second wire in should be red. To verify that the wire is correct, use volt meter on the wire. The wire should have battery voltage that goes on and off with the key.
2. Cut the red wire leaving enough room to work. Strip insulation and crimp proper gauge spade connector to each end of the cut wire.
3. Locate an appropriate place to mount the Unified Tow Brake vacuum pump near the factory power brake booster. Run the violet wire for the Unified Tow Brake vacuum pump as close to the factory wire harness that was cut and had spade connectors attached.
4. Cut violet wire as close to the modified factory wire as possible. Strip both ends of violet wire and put both ends into one spade connector. Attach wires to diode according to the diagram below.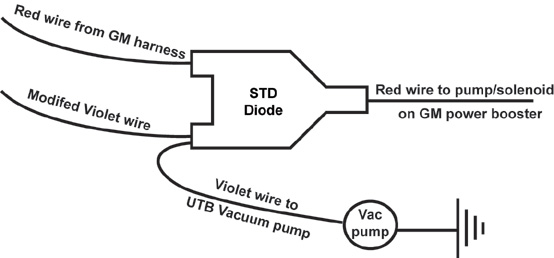 ---
Return to Unified Tow Brake Operating and Installation Instructions
Return to Unified Tow Brake Product Page
Return to Installation Page
---
Send your questions and comments to: customer.service@approducts.net
Copyright © 2008 AP Products, Inc.
Last modified: 08/15/11