AP Products, Inc. 800-417-2477 (Administration & Non-Technical) 800-874-3271 (Technical Support Line)
GM 6.5L D-Feat Calibrator '94 and up
Installation Supplement (Part # EC-4165)
Installation: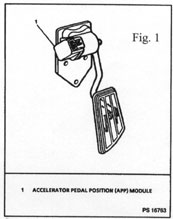 Locate green w/white stripe wire coming from the APP module (Fig. 1) under dash of vehicle. To confirm that the green/white wire is correct, with engine running and ignition "ON", attach a voltage meter to APP green/white wire. With your foot off the throttle, voltage meter should read .6 volts. As you depress the throttle voltage should increase.
Once you have located the correct APP wire, connect that wire to the white wire coming from the US Gear Calibrator. Ground black wire from calibrator to vehicle. Connect the brown and yellow harness to the D-Celerator main wiring harness D-Feat plug.
Adjust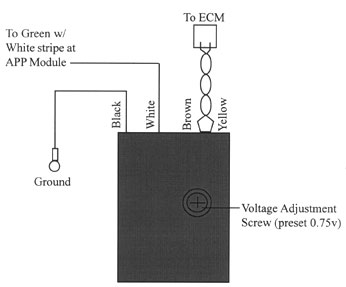 * Exhaust Brake off when idling (ECM red light flashing) turn adjustment screw clockwise.
*If Brake does not turn off soon enough (ECM red light illuminated), turn adjustment screw counter clockwise.
---
Return to D-Feat Mechanism Installation Instructions Main Page
Return to D-Celerator Diesel Exhaust Brake Operating and Installation Instructions
Return to D-Celerator Product Page
Return to Installation Page
---
Send your questions and comments to: customer.service@approducts.net
Copyright © 2008 AP Products, Inc.
Last modified: 08/15/11